The Innovation Center's mission is to teach and deliver innovation through corporate sponsored classes, labs, and programs. Heading link
Innovation is the application of abstract knowledge in a new way.
Innovation is applied and good innovation moves away from more traditional applications. The work we do is in pursuit of solving a specific problem for a partner. It cannot live apart from a need. How the need is identified, how we define the problem, how we view the current landscape, and the way we bring technology into the solution are all ingredients for innovation.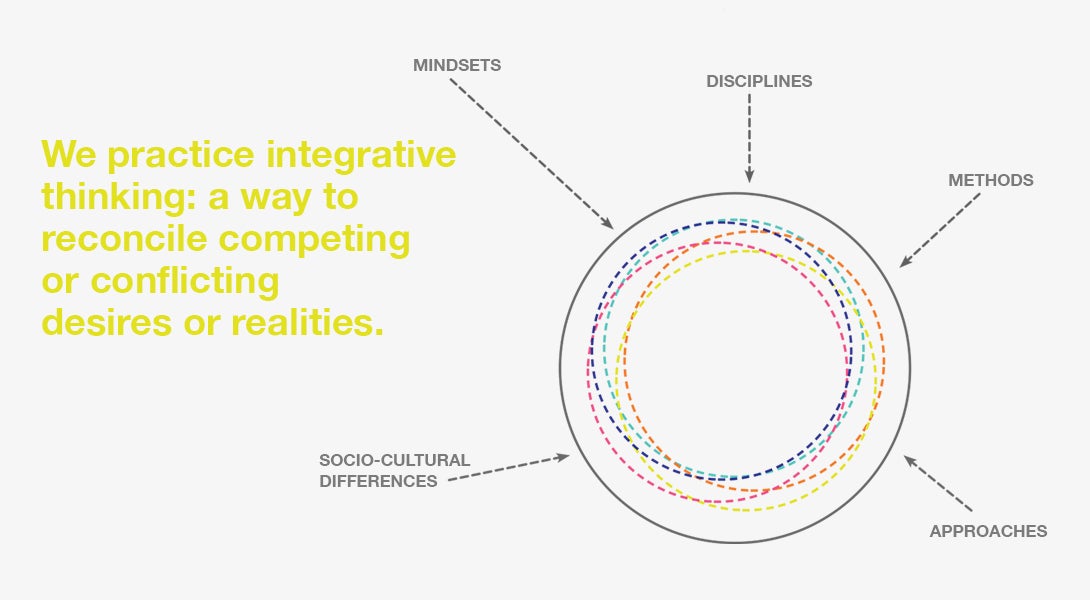 Integrative thinking is inclusive. It allows for a diverse range of complex solutions, as well as a diverse combination of innovators.
Our innovation process isn't discipline-specific. Innovation is collectively created and interdisciplinary collaboration is essential to the process because personal perspectives, histories, socio-cultural background, race, and gender all contribute to framing and solving a problem. The way people work through ambiguity and complexity contributes to resolving conflicting desires that problems almost always have.
Our Innovation process is divergent, convergent, non-linear, and multifaceted. In reality it is uncomfortably ambiguous. Our process is based on a framework that uses a compilation of tools from Business, the Social Sciences, Engineering, and Design.
Our partners range a variety of industries and have unique needs. Through our proven process we are able to approach, understand, and innovate around complex problems for our partners.

A graphic of logos representing the Innovation Center's partner history. CityTech, Intuitive, UIC Provost: 2019-2020
The partners represented: OSF HealthCare, Caterpillar, Baxter, BMW, Wilson, USG, Cigna, KIA, Morningstar, Dunkin Donuts, Phonak, Cricket, Herman Miller, Red Box, Motorolla.
The Innovation Center works to bridge higher education with industry partners and commercialization. We run 4 sponsored classes with 120+ students, including 20 disciplines and 5 sponsored labs with 44 students, 8 alumni, and 13 faculty.
About IXD

Interdisciplinary (X) Development is an interdisciplinary innovation curriculum allowing students to practice their skills in an educational hybrid: the exploratory setting of a classroom with the real-world experience of working with a corporate partner. Our classes apply innovation to a variety of problem areas—products, services, systems, and experiences. X represents any one of these problem areas, depending on the identified need.

Partner Benefits

Partners have the opportunity to work with 25+ student from multiple disciplines, across two semesters, designed to align with their problem domain. By sponsoring a class, our partners are given access to student talent, innovative thinking from fresh perspectives, and a diverse campus.

Student Learning Outcomes

Students will work on a cross-disciplinary collaborative team with faculty and students to develop concepts and pitch them to corporate partners. Teams will conduct research, define problems, pursue impactful solutions, practice storytelling, and in the process gain real-world professional experience. Projects focus on complex issues within industries such as: Healthcare, higher education, technology, mobility, and medical.
About

Our corporate labs drive exploratory development with small teams of dedicated student employees and advising faculty. Projects run on a semester to multiple year basis. The timeline of a project depends on the desired outcome, complexity, and project evolution. Each lab has a unique focus and uses integrative thinking tools and methods to identify needs, generate new ideas, and develop prototypes.

Partner Benefits

Labs are a more dedicated environment for projects to fully develop. Each lab team concentrates on a focused problem, bringing fresh perspectives and the ability to do high-level research. As members of a research university, lab teams are able to fully utilize their access to resources and subject matter experts, and work alongside dedicated faculty.

Student Learning Outcomes

Students will gain paid professional experience through working with corporate partners, advising faculty, and interdisciplinary team members. Through the scope of a project, students will learn and implement user research techniques, prototyping and testing methods, and presentation skills.
About

Multidisciplinary teams of dedicated student employees and advising faculty work on medical challenges brought to the lab from the college of medicine. Teams work on medical devices and services assessing the needs and viability of proposals, conducting observational research, concept development, and prototyping, in an effort to bring products to potential commercial partners. See an example from ORBIT Lab, published in the Journal of Medical Engineering and Technology.

Partner Benefits

Medical labs are a resource for a variety of clinicians who are dissatisfied with current methods, tools, processes, or communication approaches. Our distinct medical labs concentrate on surgical tools and methods, urological devices, ophthalmology tools, and health applications to improve communication between providers and patients.

Student Learning Outcomes

Students from multiple disciplines learn to work in teams to solve problems in very unfamiliar territory. Often, radically new approaches are developed by teams that approach problems from a distinctly non-medical point of view. Insights from the uninitiated allow for new ways to think through problems, or bring adjacent arenas into the solution development.
About

Project Lab is staffed by full-time Human-Centered Designers (and UIC alumni) with vast experience working in interdisciplinary teams. Project Lab works with faculty on innovation curriculum development, internal development needs within the Innovation Center, and operates as a consultancy on projects for corporate and university partners.

Partner Benefits

Project Lab has the capacity to focus on individual projects with a deep exploration into a specific topic, allowing partners to explore a project without the full commitment of a lab or a class. Project Lab members are experienced in approaching problems from a human-centered perspective and delivering innovative solutions for corporate partners.
About

Our workshops and training modules guide and educate practitioners through the innovation development cycle. We use a human-centered approach that builds empathy for the user, delivers insights, and helps us solve for unmet needs.

Participant Benefits

Our offerings introduce participants to different parts of our process and how to approach big problems from a human-centered perspective. Participants will learn different skills and new tools depending on the workshop or training module chosen.