We bring UIC together through interdisciplinary innovation and education.
We define innovation as bringing together existing technologies in novel ways to support unmet needs. Innovation is applied and solves problems.
Interdisciplinary Experiential Learning
Our work is collaborative and interdisciplinary. Within classes and labs, we provide tools for all UIC students to learn design thinking methods and apply them through experiential learning with corporate and university partners.
Partner History
Our partners range within a variety of industries and have unique needs. Interdisciplinary teams come together to fit the needs of our partners and solve for them through our innovation process.

A graphic of the Innovation Center partner history timeline. It include the logos and dates of partner sponsorship at the Innovation Center.
CityTech, Intuitive, UIC Provost: 2019-2020
OSF HealthCare: 2018-2020
Caterpillar: 2015-2020
Baxter: 2012 – 2019
BMW: 2017-2018
Wilson: 2016-2017
USG: 2015-2016
Cigna: 2014-2015
KIA: 2014
Morningstar, Dunkin Donuts: 2013-2014
Phonak: 2013
Cricket: 2012-2013
Herman Miller: 2012
Red Box: 2011-2012
Motorolla: 2008-2009
Take a tour of the Innovation Center
Innovation is extraordinarily non-linear
The innovation process may appear very step-by-step. In reality, it's a gritty, ambiguous, leap-of-faith activity. The process of innovation leads one to unexpected places and yields unanticipated results.
Design Thinking Process
Our design thinking process: Diverging to include a broad range of ideas, and converging to hone in on the best insight or idea to move forward into the next phase.
Non-linear Convergent and Divergent Process Diagram
What's not shown in this diagram is the back and forth non-linear reality between and within the phases. Solution-building is a messy process, with lots of ambiguity built in along the way.
IC Offerings
Experiential learning with corporate sponsors in classes and labs at the Innovation Center gives students the opportunity to put into practice skills they learn specific to their discipline in conjunction with an interdisciplinary team.
Interdisciplinary (X) Development
IXD is a curriculum focused on interdisciplinary innovation to enable UIC students to develop novel concepts and prototype solutions. Students practice their skills in an educational hybrid: the exploratory setting of a classroom with the real-world experience of working with a corporate sponsor.
Image (alt text):
About I(X)D

Our classes apply innovation to a variety of problem areas—products, services, systems, and experiences. X represents any one of these problem areas, depending on our sponsor's domain. We teach design thinking methods, collaborative working, and how to perform within ambiguous conditions.

Sponsor Benefits

Students provide fresh perspectives and are unencumbered by traditional mindsets. Multidisciplinary teams deliver human-centered views on entrenched problems, hypothesize solutions, build interventions, and test them with stakeholders. The broad range of solutions from five to six multidisciplinary teams is the point of value for our sponsors.

Student Learning Outcomes

I(X)D is unlike any other class at UIC. We bring together engineering, business, and design into multidisciplinary teams to experience the full range of problem solving. Design thinking is a structured approach that provides definition to the process of innovation. Our teaching method is experiential, and students learn by conducting user research and testing in the field.
Sponsored Labs
Our labs are what drive exploratory development at the Innovation Center. Each lab has a unique focus and uses design thinking tools and methods to develop novel solutions.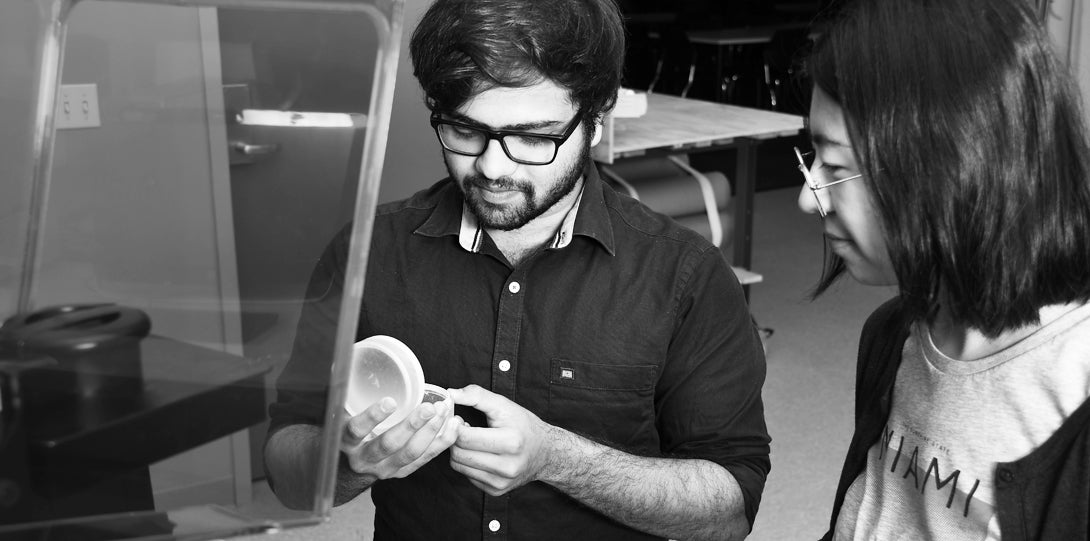 Executive Training
Through a range of executive training workshops, the Innovation Center introduces practitioners to our design thinking process and guides them through the innovation development cycle. We offer a range of executive training courses from an introduction, to application, and immersive experiences.
Executive Training
Introduction (Small)

One-day and three-day workshops that introduce participants to the design thinking process.

Application (Medium)

A six-week course that introduces participants to the design thinking process and allows them to practice new methods by applying them to needs within their organization.

Immersion (Large)

An immersive six month design thinking partnership custom designed to fulfill the objectives of the partner. This provides an in-depth, hands-on experience with the application of new methods and tools.
Executive Training Workshops
Open Positions
The Innovation Center hires UIC graduate and undergraduate students to work in our labs that run all year round. Students typically work 15 hours per week during the academic year, and up to 35 hours per week over the summer. We hire all disciplines, and seek students who are curious, motivated, eager to work with other disciplines, and want hands-on practice in innovation methods. We work on problems involving social issues, medical devices, digital analytics, machine learning, information design, product design, and service design.
Send your CV to us at UICInnovationCenter@uic.edu.
Innovation Center Faculty and Staff